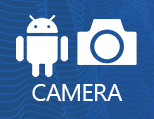 Camera2 for Android
Delphi and C++ Builder camera component for Android.
uses Android Camera2 API
requires Android 5 Lollipop (API 21) or higher
available for Delphi/C++ Builder 11
source code included in registered version
royalty free distribution in applications
Download and order
FAQ
How can I apply changed properties to the active preview?

ACamera2.EffectMode := TEffectMode.Mono;
ACamera2.UpdatePreview; // apply properties to active preview
							
How can I use camera component for optical barcode recognition?
Call CaptureImage method periodically and provide barcode recognition in the OnImageAvailable event handler. You can use
Barcode Suite for FireMonkey
for this purpose.
Related links